Regular oil changes are one of the most important—and cheapest—things you can do for your vehicle's long-term health. Ensure your car's engine keeps ticking over with Iconauto excellent oil change services.
The Importance of Regular Oil Changes
Regular oil changes are much like a doctor's check-up to ensure your car's overall health. When you bring your vehicle to Iconauto for an oil change, our experienced technicians will carry out a full inspection of your engine, lubricate the chassis, change the engine oil, install a new oil filter, and check all fluid levels as needed.
Getting an oil change is a great way to prevent future problems and unexpected breakdowns. Don't hesitate to contact us for more details.
Keep your engine lubricated

 
Wheel Installation
Oil Change
Safety Repairs
Brake Service
Dashboard Indicator Lights Verification
Heating Inspection
Suspension Testing
Autobody Repair
Broad Specialty
Customer Focused
The Best Team in Etobicoke
Effective Solutions
Etobicoke
North York
Toronto
GTA
Why Do Cars Need Oil?
Engine oil is designed primarily to lubricate the moving parts of your engine and reduce wear. Given the number of fast moving and delicate parts in modern engines, you can imagine how important it is to make sure none of these components grind against each other. Another important function of engine oil is to keep the engine at optimal temperatures by drawing away excess heat. If you didn't have engine oil, your car would quickly overheat and break down.
The standard recommendation used to be to change your oil every 4,500 to 8,000 kilometers, but, considering how drastically driving habits have changed over the past few years, it's best to check it more regularly. And if you see a red oil light appear on your dashboard, you may be dealing with low-to-no oil pressure or a serious oil leak. Call us at Iconauto. and get your car serviced right away.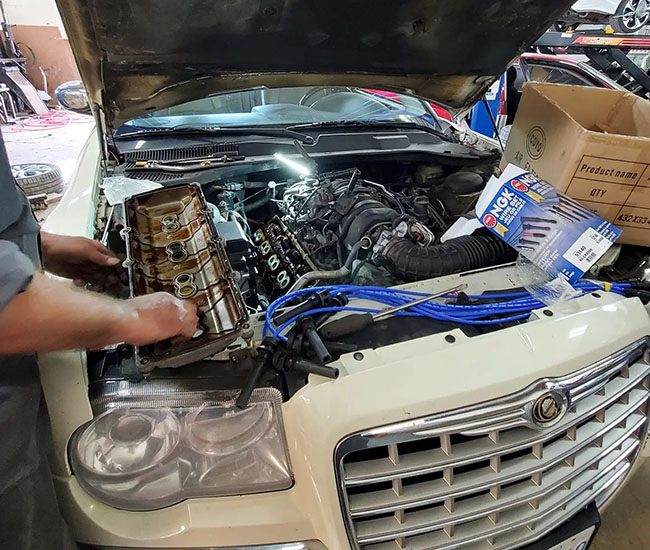 Expertise You Can Count On
The experts at Iconauto are here to make sure your vehicle gives you a reliable ride for as long as possible.
Iconauto is committed to ensuring that the collection and processing of data carried out by our
iconautocentre.ca
site complies with the General Data Protection Regulations (GDPR) and the Data Protection Act. To know and exercise your rights, particularly concerning the withdrawal of consent to the use of collected data, please consult our
privacy policy